At Great Lakes Dentistry in Shelby Township, MI,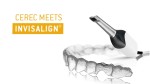 we're excited to share that we're one of only a few offices that provide Invisalign treatment. With the newest technology, we can provide Invisalign to Shelby Twp patients without having to take any goopy impressions! Now, we simply take some pictures using the latest Cerec OmniCam 3D camera, and we build digital models, right there in less time than it takes to make a cup of coffee! Call today for your free consultation to see if Invisalign without impressions is the right treatment for you. (586) 684-4822
No More Goopy Impressions
Invisalign is a brand name treatment that straightens your teeth to give you healthy gums and a beautiful smile. You could also get traditional braces (metal brackets and wires) that would accomplish the same thing. Invisalign straightens your teeth using sets of clear trays, called aligners, to incrementally move your teeth into the correct positions. Each set of aligners gradually moves the teeth closer and closer to where they should be.
Patients love Invisalign in Shelby Twp., MI because the aligner trays are clear, making the treatment virtually invisible. Only you and your Invisalign expert Dr. Shawn Van de Vyver will know that you're in the middle of treatment! Invisalign treatment in Shelby is a great option if you want to get straight teeth without having metal brackets and wires. The treatment was specifically designed for patients who went through braces when they were younger, but they didn't wear their retainers (or they lost them, or their dog chewed them up, or they went in the trash… we heard it all!).
If you've got crooked teeth or some crowding and crowded teeth you want straightened, Invisalign is the perfect treatment for you.
Call today for a free Invisalign consultation at (586) 677-2828 or fill out this quick form REQUEST AN APPOINTMENT
Why is Invisalign the best treatment to straighten my teeth?
I
nvisalign straightens your teeth using clear aligner trays. You don't need to have brackets and wires like traditional metal mouth braces. If you're going out for the night or you've got an important meeting, you can leave your trays out for a little while and you'll be fine! Nobody needs to know that you're going through treatment! You get straight teeth on your schedule, whenever you're ready. For more examples of Invisalign treatment, visit the Invisalign website.
Most adult patients undergo treatment because they had traditional braces as teenagers, but over time their teeth relapsed and became crooked and crowded. As adults, most patients want the most cosmetic solution for straightening their teeth, and the best option is Invisalign treatment. As you can see (or more accurately NOT see) the aligner trays are virtually invisible and make treatment cosmetic and unnoticeable.
If you would like a complimentary consultation, and want to find out if you're a candidate for treatment, call our office at (586) 684-4822 or simply fill out the form below and someone from our office will contact you soon.