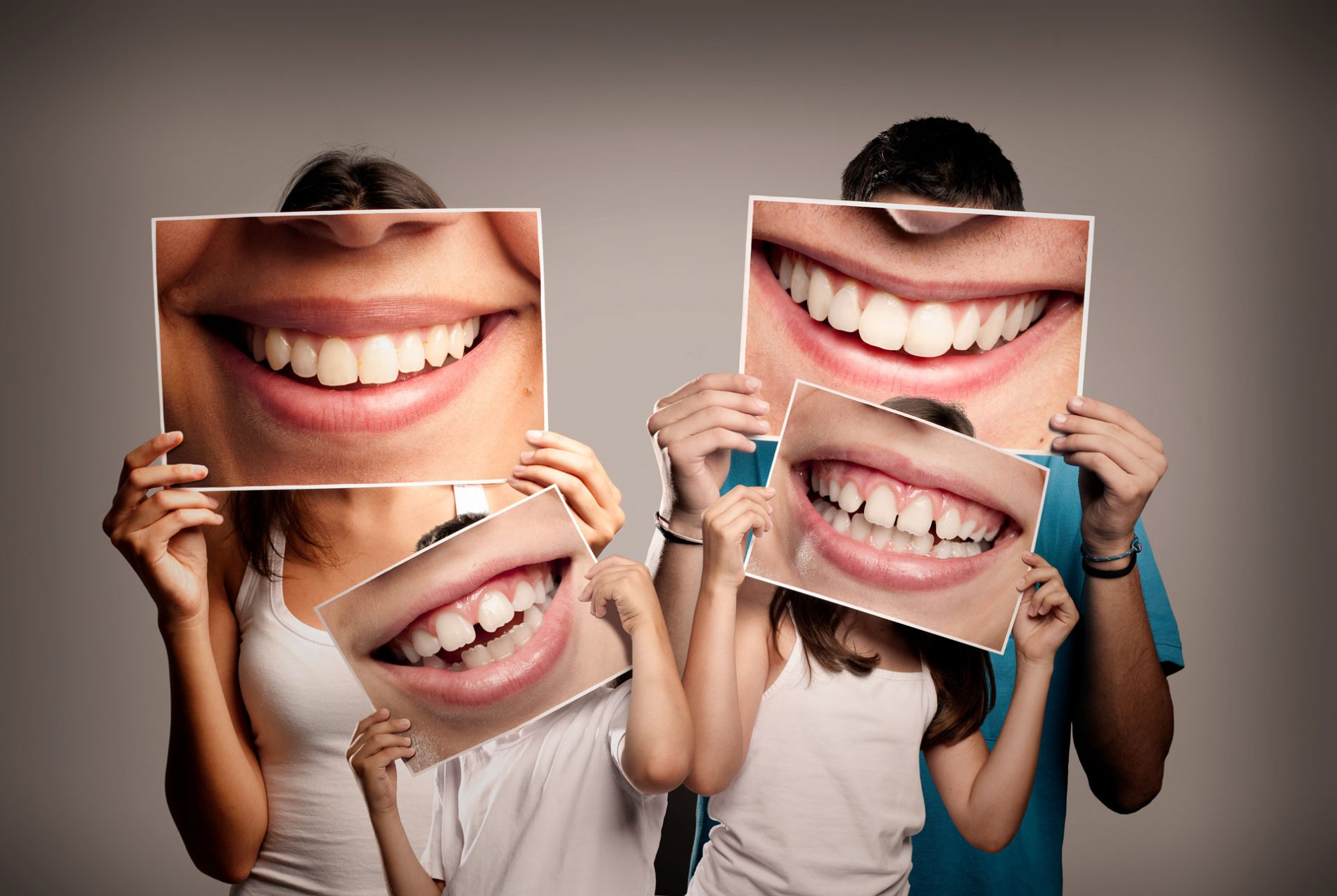 If your oral health keeps you up at night, but despite the anxiety, you will not pick up your phone to call your local dentist, you are not alone. The Centers for Disease Control and Prevention (CDC) reports an alarming trend: nearly 40 percent of the adult population and 20 percent of pediatric patients do not visit a dentist on a regular basis. Many people do not think it is necessary until the problem emerges and the symptoms push them out the door. Others, on the other hand, have a legitimate dentist phobia, preventing them from getting the appropriate treatment. Dentistry is not only destined for treating oral disease – it is a vast field that primarily focuses on prevention, and by doing so, you can save yourself time, money, and often lengthy treatments. 
Our comprehensive guide to the dynamics of dentistry will provide you with the appropriate knowledge. Still, if you do not experience it on your own, the information may seem slightly abstract. Push through the fear and call your dentist shelby twp mi today.
What Can I Expect During a Dentist Visit?
Once you find the dental office that fits your needs and expectations, it is time to set up your first appointment with a comfortable dental chair. During the initial visit, your dentist will conduct a thorough health interview. Don't hold back on any underlying conditions you have, such as diabetes, or medications you are currently taking. Remember to keep the office informed about any changes on your subsequent visits. 
Most first visits are based on assessing the condition of your teeth and gums. Regular checkups, preferable every six months, will keep your teeth clean and healthy while preventing many painful ailments. 
Thorough Professional Cleaning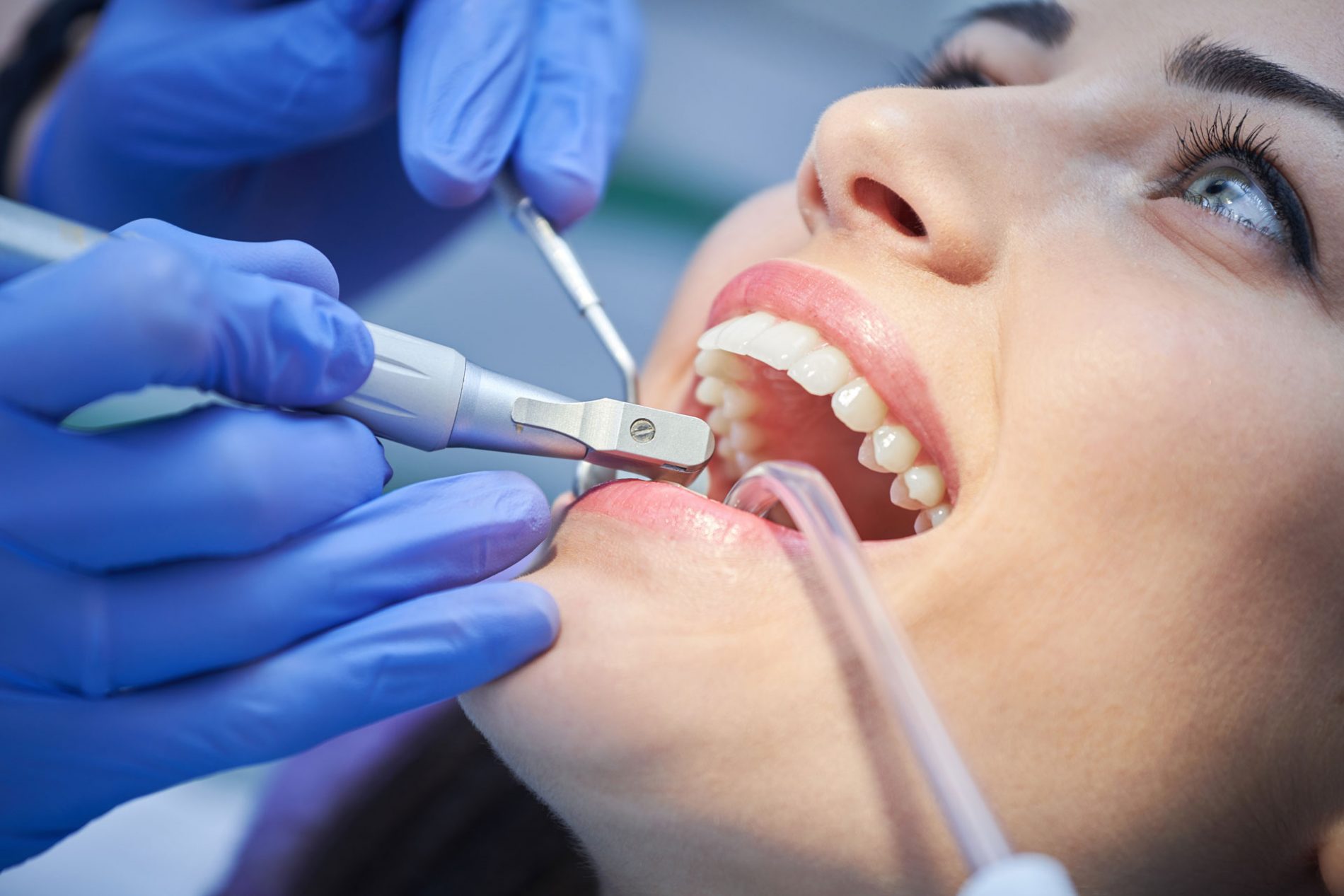 In almost every case, your routine dentist visit consists of performing a complete tooth cleaning. Specialized instruments remove plaque from below the gum line to prevent gum disease, tooth loss, or bad breath. You may also require polishing and flossing to achieve better results.
Complete Oral Examination
Your dentist will conduct a thorough examination of your teeth, gums, and oral cavity for signs of changes and other dental problems. The idea is to help you maintain excellent oral health and prevent the emergence of serious issues by finding and treating them as quickly as possible.
The areas most commonly addressed by a dentist include tooth decay detection, pocket measurements to determine your gums and bone health and bite evaluation to check for any irregularities that may affect your dental health. 
Digital X-Rays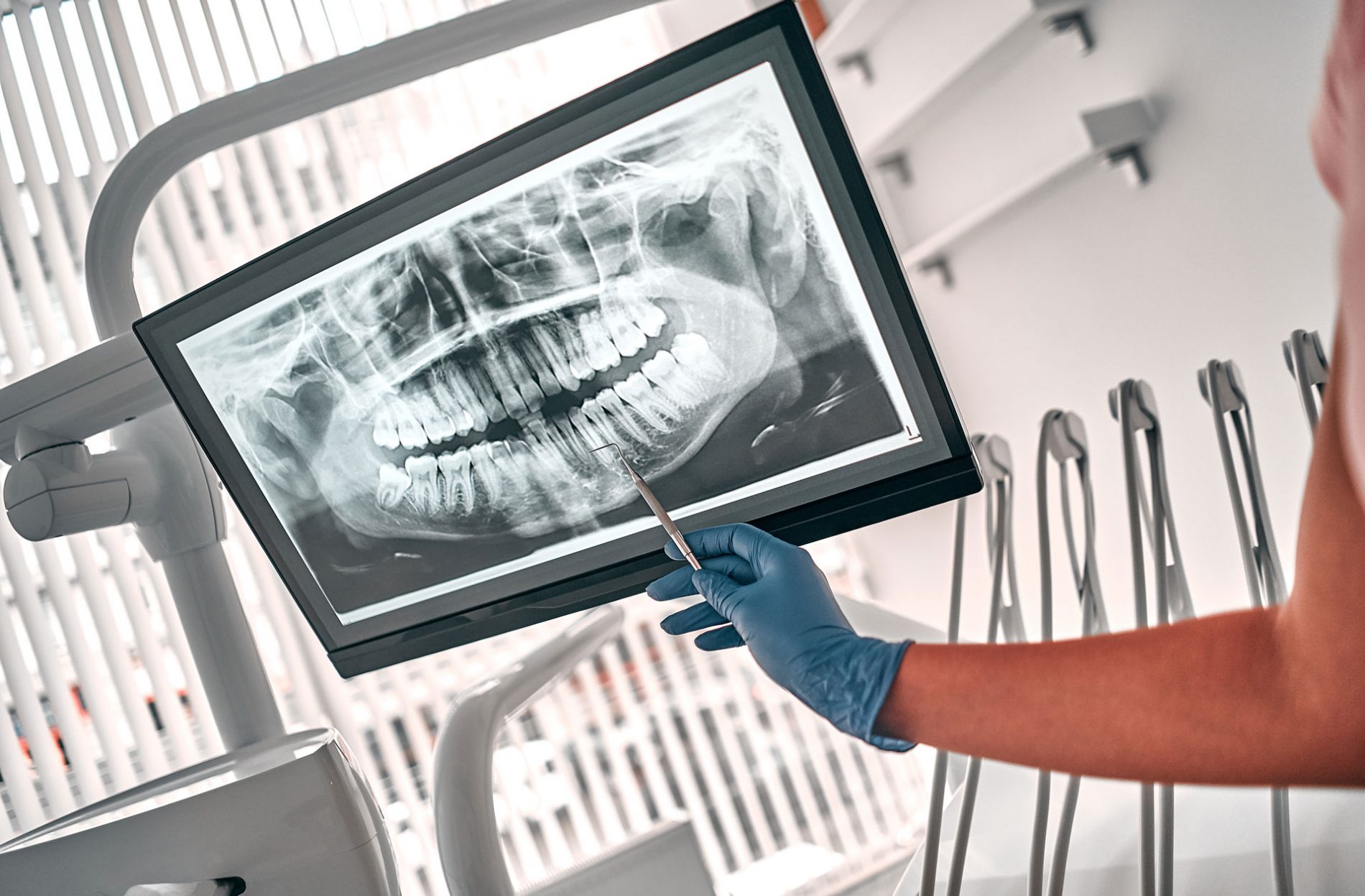 Depending on your age, risk of disease, and symptoms, your dentist may recommend x-rays as an additional diagnostic tool. It is a test that can identify problems otherwise unnoticeable, such as damage to the jawbones, impacted teeth, dental abscesses, and caries between the teeth. Modern dental offices have equipment that reduces the amount of radiation to where it is almost indifferent to your health. Typically, the amount of radiation does not exceed the dose you receive when spending a day in the sun or a weekend in front of the TV. As a precautionary measure during x-rays, you may ask for a lead rubber apron. Pregnant women should inform the dentist about their condition, as in their case, x-rays can only be performed in exceptional circumstances. 
More advanced dental offices are equipped with a Dental Cone Beam Computed Tomography (CT), which is a type of x-ray device for a more thorough examination of your oral cavity. The scanner produces three-dimensional images of dental structures, soft and hard tissues, and nerve paths that aids in better treatment planning. 
Oral Cancer Screening
Early detection of any signs indicating cancer will ultimately aid successful treatment. For those reasons, oral cancer screening is performed during all preventive visits. Your dentist will assess the condition of your head, neck, lips, and all mouth tissues, including your tongue, looking for the appropriate signs and symptoms. The National Institute of Dental and Craniofacial Research suggests acknowledging the connection between tobacco and alcohol use in relation to oral cancer. 
Fluoride Treatment
Topical fluoride treatments are designed for children to strengthen the tooth enamel and consequently to prevent cavities. If your dentist's examination concludes that the child's teeth are especially prone to decay, the fluoride treatments may have to be repeated more frequently. Adults, who are at higher risk of developing cavities, may also benefit from fluoride treatments.
The Aesthetic Approach in Dentistry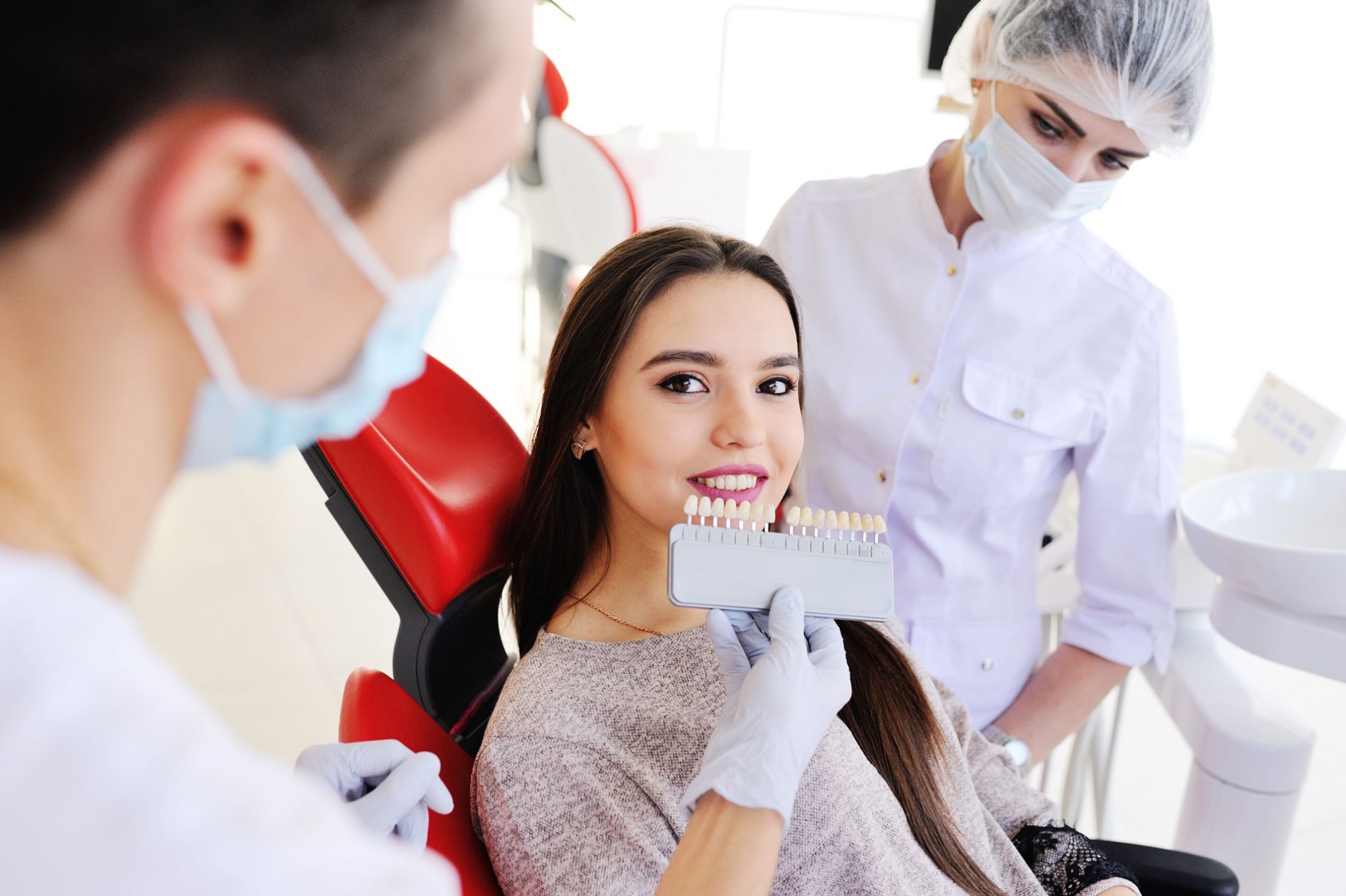 Unlike cosmetic medicine, any aesthetic correction within the field of dentistry provides a foundation for oral health. Missing or cracked teeth are not only unappealing but also pose risks for further damage. A qualified dentist with years of experience in the cosmetic world of dental care can help you regain your confidence with a dazzling smile and essentially minimize the risk of future oral problems. 
Any dental defects can be fixed due to the highly sophisticated nature of modern dentistry. Teeth that are crooked, missing, stained, cracked, or chipped are all good candidates for some aesthetic work. At Smile in Michigan, we blend the aesthetic nature with the focus on dental health and wellness. Specific treatments that will help perfect your smile and health include: 
Dental Crowns:

a meticulously customized cap for critically damaged teeth will restore their shape, function, and color. 

Veneers:

a porcelain shell adhered to the surface of your front teeth will correct chips, cracks, crooked teeth, cover gaps, stains, and various discoloration. 

Dental Implants:

an artificial root placed in your jawbone will help restore your missing teeth and prevent bone tissue loss.

Invisalign:

An alternative to wire braces, Invisalign closes gaps between teeth and corrects crooked dentition. The aligners are virtually invisible for your optimal comfort.

Cosmetic Bonding:

Slight dental imperfections can be fixed with teeth strengthening agent by closing gaps, correcting chips, and smoothing edges. Dental bonding also helps with discoloration.

Dentures:

An alternative to dental implants, dentures have a long-standing tradition in dentistry. Today's dentures are durable and stable, providing comfort and restoring your mouth's functionality.

Teeth Whitening:

professional teeth whitening is a safe and effective solution to brighten your natural smile. 
Dentist Visits Should be Part of Your Life
There is no reason to keep postponing your dental appointment. Dentistry is a multidisciplinary field essential for your health and overall wellbeing, providing you with appropriate solutions to maintain a beautiful smile lasting a lifetime. It is never too late to reach out and get your dental act together. 
Feel free to read our article on How to make a dentist appointment?